The pandemic has encouraged lots of people to re-think their lifestyles, with large numbers looking to capitalise on a rediscovered love of space and surroundings by purchasing new property outside of the cramped cities. Cornwall in particular has experienced a massive property boom as demand has soared for second homes, holiday home investments and seaside homes for remote working professionals.
If this includes you… welcome to Cornwall! Hopefully your house sale has gone smoothly, the moving vans have delivered everything without a scratch and the neighbours have given your a proper Cornish welcome (if not, they probably intend to do it dreckly!)
Smooth sailing or stormy waters?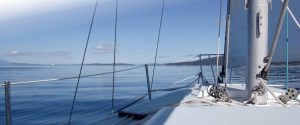 Going forward though, you might find that not everything is smooth sailing with your Cornish property dream. In particular, whilst we hope that your block management agent is great if you bought a house or appartment that's leasehold or part of a Residents Management Company, we're also aware that sometimes your new property agent may fall short of your needs and expectations, not least from the numerous clients each year which switch to us from our competitors looking for more transparent, efficient and effective service.
Perhaps your previous experiences of block property management has been better, and you want to see improvement in your new Cornish home experience as well. Perhaps you've had poor managing agents in the past, and you recognise some of the same negative practices in your new property agents such as taking commissions from insurers and contractors, unreasonable hidden charges or service charges that seem to come with precious little "service".
One Good Change Deserves Another
You've already made big lifestyle changes, so if things aren't working out quite right then why not continue to look to make changes for the good of your new property? Talk to the decision makers involved: perhaps it's a freeholder, or more often the directors of your Residents Management Company. Find out more about the history of your current block management company's involvement with the development, and about what appetite for change there may be amongst your fellow property owners.
Feel free to start considering the alternatives. Blue Waters Residential Management is a leading block property management company covering the whole of Cornwall and west Devon too, and we specialise in efficient, effective and friendly services. Block property management is our whole business, so our focus is always on delivering the best results for your new property's whole development. We also never take any commissions from insurance renewals or contractors, instead choosing to pass on the full savings to our clients.
If this sounds like a superior service to the one that you are experiencing in your new Cornish property, then call us today to receive advice on how you can go about making the same kind of positive changes for your whole development that you have already made by joining us down here in beautiful Cornwall!